Dear friends and loved ones,
I write to you, having spoken with my team just yesterday, as they were getting ready to move further west as the current location has been under heavy fire the last few nights. It's been two weeks since 15 left Stephen's Home as the battle nearby was intensifying and getting closer. I have heard this week, from those keeping an eye on SH, that the structure is still intact. Our family group left the home Tuesday morning, but departed without one person.
One of our young men, Sasha D., out of fear of meeting the troops at the checkpoints they'd have to encounter, bolted out a window in his room in the middle of the night. When he was discovered missing, numerous phone calls were made to try and find out his location, but he would not answer his phone. On Saturday, when I spoke with our House-Papa he shared that Sasha called them, in tears, having reached the home of one the orphanage staff directors in Oleshky, about 40 km away, regretting that he did not go with them. The team is hopeful that they can be reunited soon. Please pray for Sasha as it is becoming apparent this is his nature—to avoid confrontation at all cost. The fear in his heart to have others upset, angry, or focused on his discrepancies penetrates deeply. Sasha has the capability and status to live wherever he desires. Please pray for him to have peace in his heart, despite the war raging around him.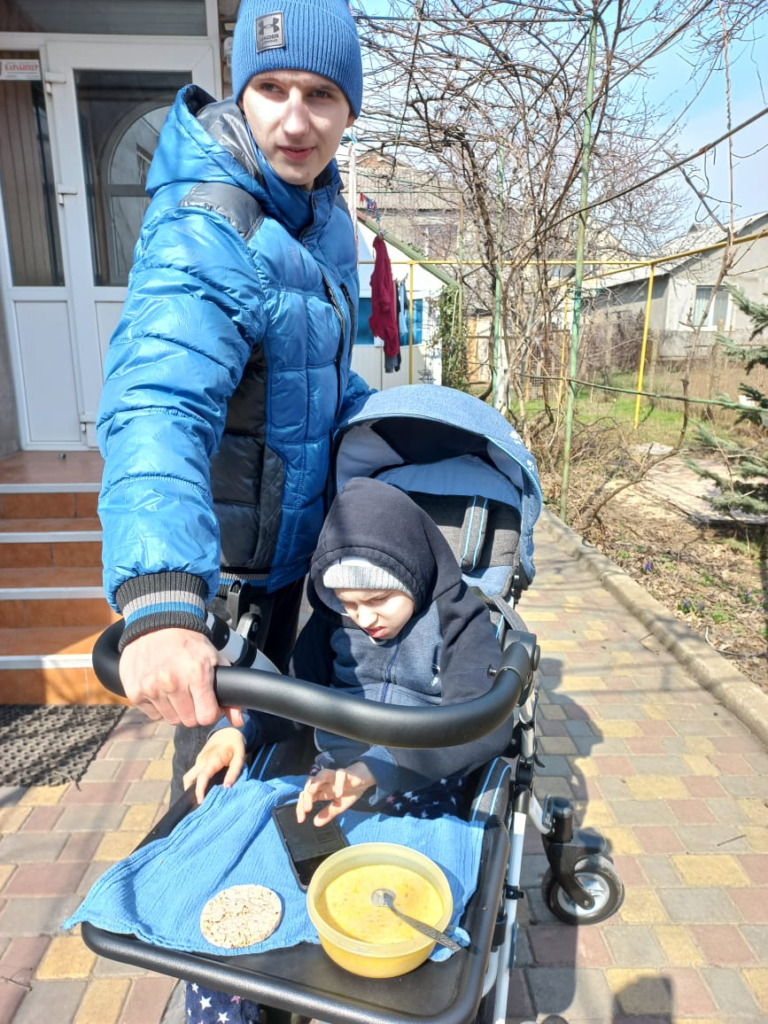 L: Sasha with Kostya on a sunny day, safe for today, enjoying a bit of peace before the storms of shelling through the night come. R: Breakfast in a home away from home. Sasha B. and Slava sharing a meal together, not certain how long they will stay.
My team and I have texted and talked continually over the past month since the invasion of Ukraine started, with the perspective that the best place for our guys is Stephen's Home (SH). Departure from there would not happen unless it was absolutely essential for their wellbeing. Many nights have been spent in the basement together huddled down, some with little rest because of the ongoing explosions nearby or off in the distance. The decision to depart was not an easy one to make.
The team drove all day on the 29th of March through their home region and ended up late at night in a city nearby, a drive that typically should take four hours. Their three cars were searched every time at checkpoints. I can guarantee to you the security at the airport that we have to go through is miniscule compared to the rigorous searches our House-Papa has described previously when he would simply go into town to get food supplies for the family. Having four couples and each family's one or two children, along with three young men with disabilities accompanying them made this attempt to evacuate terribly frightening. The Lord went with them. Your prayers are being answered.
The family of SH has been in a small house, trying to work through scenarios as to what will be best for everyone. They have mutually decided that everyone should stay in Ukraine, if not all can cross the border together. A couple of things make it difficult for everyone to cross the border:
Our young men are very attached to their direct caregivers, a good portion of them being male, so they are not allowed, by law, to depart Ukraine.
Our director can not leave her husband and son behind as she has just given birth to a new daughter. She, with these circumstances, could not be who the young men need her to be without her family's support.

Wisdom for direction as they continue to journey away from areas of fighting.
A place to stay that can host all of them for a time until they can discern whether or not to return to SH or move. If the war ends, the law may change and they could cross into Romania for a time of rest, regrouping, and planning for the future based on what we know. I may join them if they move to Romania and help to work through our next steps.
For now, I'm in Bradenton, FL with my mother with plans to continue to encourage her for a bit. She's still processing quite a lot of changes. Our family was blessed by all through the services held for my father in Chicago this past weekend. Thank you for many who have been an encouragement to my whole family through this time of both Dad's going home and our working through the loss.
It is my intent to purchase my father's car while here in Florida and get back on the road again to visit as many of you as possible. My starting point may begin with the DC area and I would continue my drive south since I started that trek in January. As I put definite plans into place I will be in touch and look forward to being with you.
Additional needs:
•My friends who remain in home have been in constant communication with our contacts in the orphanage and our guys in two institutions that are all in the occupied territory. The biggest need is for medications to be brought in, but many attempts have been made and were unsuccessful.
• Our young men, now nine total as Sasha D. remains in Oleshky, face different challenges. Though the fighting may not be as intense today as it was a month ago, having lived through that and not understanding how to grasp the simplest sound like an airplane passing over without panicking, is not something we can grasp, but they need prayer.
• Please pray that funds continue to be able to get through to my team of workers, those helping them, and so many others, no matter how scattered folks become through this time of war.
Thank you all for your continued prayer and lifting up Ukraine.