PROMISE is a non-profit charitable organization that ministers to special needs orphans in Ukraine
Beloved, let us love one another, because love is from God; everyone who loves is born of God and knows God. Whoever does not love does not know God, for God is love.

1 John 4:7-8
A missionary from the United States, Alys West, initially came to Ukraine on a short -term mission trip the summer of 2005. The Lord used the time on that trip to convict her heart to return again, but it wasn't until the following year, when staying with the local pastor and his wife that He made clear the purpose and desire for her return. After a month of searching, clarity and discernment came through a couple visits to a local orphanage outside of Kherson, where many disabled orphans were housed. After meeting and talking with a volunteer from Germany who was serving mentally disabled children who were bedridden, Jesus made it very clear this was where he wanted her.
Since July 2008, having lived and worked in this post-socialist culture had it's challenges and many things about life as an orphan have become clear. Mentally handicapped kids are often purposely isolated and written off as less than dogs. The government has continued to provide very little for the mentally disabled adults, over 18 years of age, even in comparison with the physically disabled children. Often times making what could be hopeful situations, impossible. Simple things often taken for granted, exercise and therapy equipment and staff to work with these kids is simply not considered. Some therapy equipment and nutritional food supplements have been gifted, but the staff to work with and administer it daily are either not willing or available.
Over the years of working in these state institutions, we have gained a broader understanding of how to be a help, because institutional staff is so limited. Professional therapists have come alongside to show simple tools and exercises to work with the children at the orphanage. With the help of two teams from the States in 2012, we converted the simple playroom for the children into a safe, exercise therapy room with padded walls and flooring that brought it up to the medical staff's requests and installed therapy swings, mobilization tools and toys for doing simple exercises and a safe play space for the children.
It is difficult to address the physical needs of the teenagers because their muscles have atrophied over the years without formal training.  So rather than focusing on physical therapy, we have focused on mental and educational development often times using scripture and Bible stories and songs. We began back in 2009 with group activities and games like Uno, Candy Land and matching games to help the orphans with number and color recognition.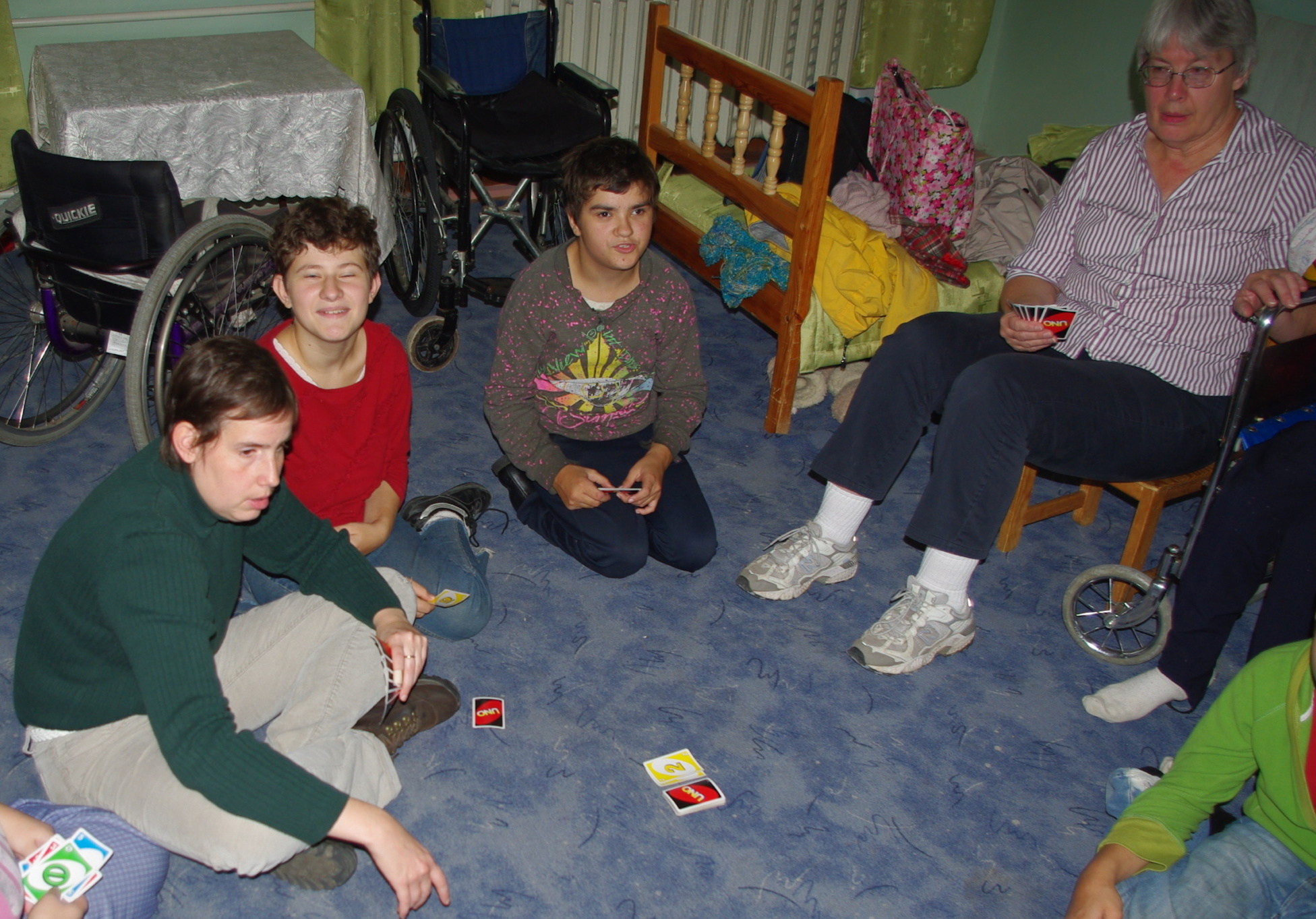 Bible lessons on a weekly basis followed by crafts to help them comprehend and develop eye-hand coordination became routine. During the warmer months these kids found joy in playing outside, but the playground was not accessible to them. Teams in 2012 also helped to make the playground handicapped-accessible to them in their wheelchairs. Early on an annual picnic into the city of Kherson to get the teens out into the community and give local churches the opportunity to participate in the kids' lives, started up. Several groups from the States came to do Vacation Bible School activities with the teens, and summer interns through New International have brought new faces and friends for these forgotten adolescents.
When these children reach 18, they "age out" of the orphanage and they are placed in another government institution for the rest of their lives. They are uprooted from the only home they have ever known and sent to live where they don't know anyone. They have no rights… no formal education, and no understanding of life outside the orphanage. Desperate for freedom and longing to be loved, they are isolated from society and simply left to die.
We walked through that transitional trauma with one young lady, Sveta. She felt she was being rejected by her mother for a second time, when told "no" she could not "come home." In talking with others about possibilities, though running into dead ends, being told "there are no options available." The Lord convicted us to the heart and made it clear "we need to create a better option" and that's when Naomi and Stephen's homes began to come to culminate.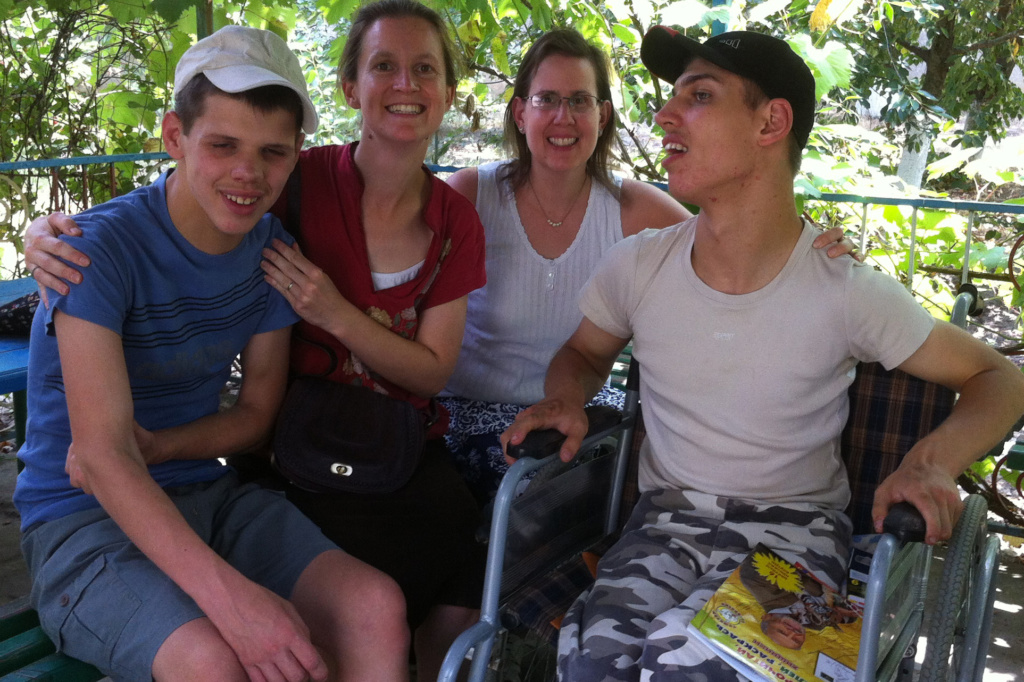 Those we've worked with are now 22-29 year olds currently living in old folks homes, asylums and dormitories similar to the one in Kairy, Ukraine where 350 mentally challenged and mentally ill men of all ages are housed. There they receive minimal nutritional food & a bed to sleep on, but they need so much more. It is for these young adults that we are building Naomi's home and Stephen's home.
The ideas and plans have been of the Lord and they started years ago. His fruition and realization of house designs were for the lives of these teenagers at the orphanage. Stephen's Home, the first of many homes we have established for these disabled adults that are intended to provide much more than just a place to live. The homes will be Christ centered with Christian house parents. We plan to bring these young folks together to be reunited with their friends, to teach them the love of Christ and to enable them to meet their God given potential through daily lessons in every aspect of the home, church, classroom and workshops that will engage them in life in a whole new meaningful way.